Some of the links below are affiliate links, so we may receive a commission, at no cost to you, if you make a purchase through a link. Check our Disclosure in the Privacy Policy for more info.
How To Make Easy Flapjacks: That's Gooey, Chewy And So Soft
This right here is the ultimate gooey flapjack recipe; it's moist, soft, chewy and the best flapjacks ever! Find out how to make this super quick recipe below.
Whenever I think of flapjacks my mind goes right back to my childhood, making easy flapjack recipes that were so soft, chewy and of course ultra-gooey.
Alongside my lemon flapjacks, Biscoff flapjacks and chocolate flapjack recipe (that takes ordinary flapjacks to a whole new level!), this classic flapjack recipe is also my best yet. It's perfect for those of us who love sticky, soft and gooey types of flapjacks.
Oh, I can't forget these so good cherry bakewell flapjacks!
Really Gooey Flapjack Recipe (Watch How To Make It)
The Best Gooey Flapjack Recipe
So, what makes this the best flapjack recipe? Um where do I start…
My first attempt at making these flapjacks were a complete fail, the flavour was great but the texture wasn't as gooey as I hoped. It was very crumbly and didn't hold well at all!
It can't be a really gooey flapjack recipe when the flapjacks don't turn out gooey! So, I tried again and after going through tons of oats, golden syrup, butter and sugar, I've finally got it perfect!
These flapjacks are a great make-ahead snack, are quick to make and is a family friendly treat everyone will enjoy. I love to eat them with a cup of coffee and it's one of my go-to snack ideas to eat when I'm peckish.
Are Flapjacks Supposed To Be Gooey?
You can make flapjacks with various different textures: some can be gooey, chewy, hard and even crunchy. So yes, some flapjacks are supposed to be gooey, it's simply down to preference. Gooey flapjack recipes tend to have a higher content of golden syrup and butter or at least with one of these two ingredients.
Flapjack Recipe Ingredients
Nothing beats a plain flapjack recipe: it's classic, traditional and can be made with only 4 ingredients! Below are the few ingredients needed for this gooey flapjack recipe made with golden syrup.
Golden Syrup

: Golden syrup is best to use when making flapjacks. It's a sugar syrup that has a buttery and caramelised sweet taste. It helps to bind the oats together.
Butter: You can use salted or unsalted butter; both are fine to use. Butter adds a delicious buttery taste to the flapjacks. I like to use salted butter as it adds a slight saltiness to the flapjacks.
Light Brown Sugar

: Light brown sugar is melted with butter and golden syrup; it adds an extra sweetness (as if it wasn't sweet enough). If you don't have light brown sugar than you can make these flapjacks with caster sugar as an alternative.
Porridge Oats

: We can't make flapjacks without oats; this recipe uses porridge oats. Any brand of oats will do, value packs work great too! You can get so many different varieties of oats but I prefer using porridge oats, it's smaller in texture so binds together easily and helps to prevent the flapjacks from falling apart.
Can You Use Honey Instead Of Golden Syrup?
Can you make golden syrup flapjacks without golden syrup and use honey instead?
Well, honey and golden syrup have a very similar texture and honey can often be substituted in recipes calling for golden syrup with a 1 for 1 ratio.
They're both similar in texture but the taste differs. You can substitute honey for golden syrup but for me, the taste is not the same when using honey.
How To Make The Best Gooey Flapjacks
Ready to tuck into some gooey flapjacks? Below is a step-by-step guide on how to make them. Full recipe instructions are on the recipe card at the bottom.
Don't forget to check out the video too. The real trick for ultra-gooey flapjacks is the shortened cooking time and ratio of ingredients.
Step One:
The first step is to melt butter, light brown sugar and golden syrup together, I like to do this in the microwave. I warm the mixture on a medium to high heat constantly stopping after 10 seconds, giving the mixture a stir each time. You can melt the mixture in a pan on the cooker.
Try not to overheat the mixture, the mixture should melt quite quickly, once melted remove from the heat.
Step Two:
The next step is to mix the oats into the melted butter, light brown sugar and golden syrup mixture. I simply pour the oats into the mixture and mix together with a wooden spoon. If you don't have a wooden spoon to hand, any spoon or spatula will do.
You'll notice the flapjack mixture will be quite moist and wet, that's the perfect texture for gooey flapjacks.
Step Three: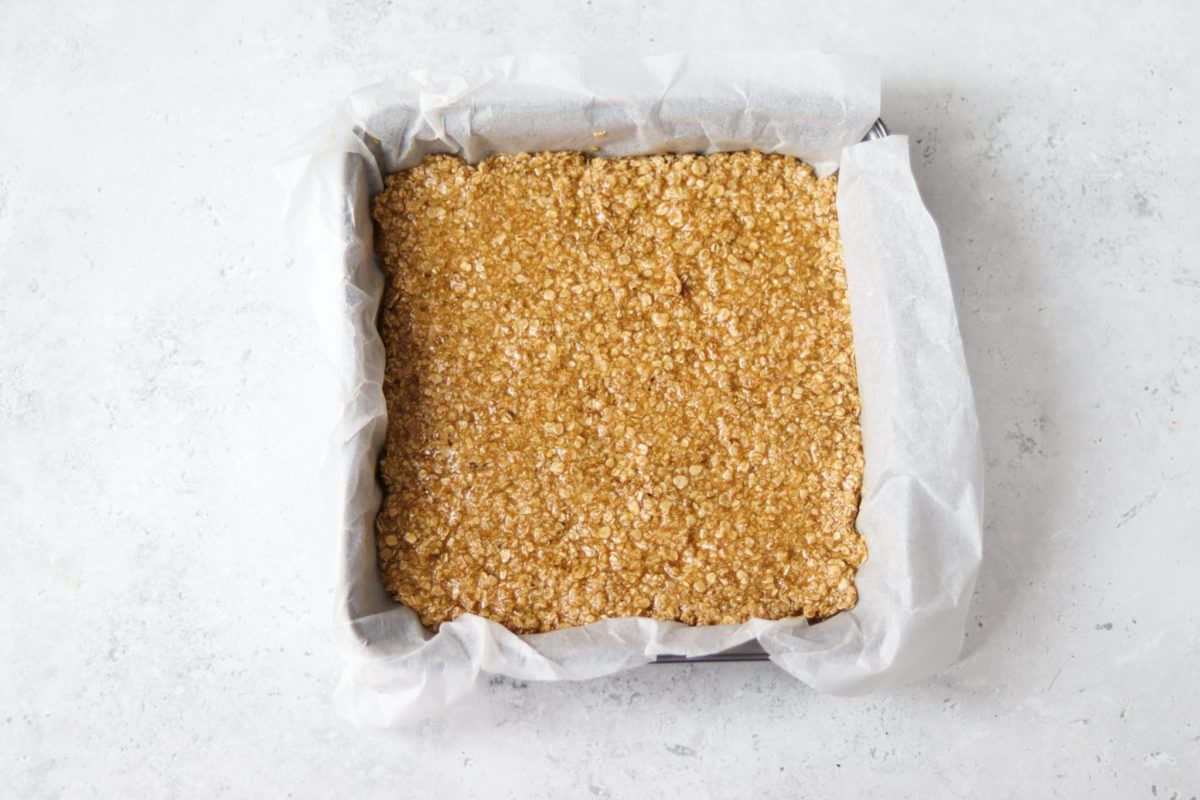 Pour the flapjack mixture into a lined baking tray, I used a 9″ square baking tray from Amazon. Spread the mixture evenly into all four corners. Bake in the oven for 20 minutes, the flapjacks will slightly brown in the oven and you'll notice the corners are slightly darker and sturdier.
When it comes out of the oven the flapjacks will look like they're not ready but they will firm-up during the cooling process. Don't be tempted to put them back in the oven, the flapjack mixture will not be gooey and if overcooked they will be very crumbly.
Step Four:
Once the flapjacks are baked, leave them to cool down for a few minutes; I usually wait around 20 minutes or so.
Then cut the flapjacks into squares, I cut mine into 9 big squares but you can easily make 16 squares or more depending on how small you cut them.
Should Flapjacks Be Soft When Cooked?
Yes, once out of the oven the flapjacks will be very soft but don't worry, they are not undercooked. Leaving the flapjacks to cool down will allow the flapjack mixture to harden.
This gooey flapjack recipe is moist, chewy and soft without each flapjack falling apart. That's why it's my best flapjack recipe yet!
Can You Freeze Flapjacks
You can freeze flapjacks. To freeze them, simply cut the flapjacks into squares or you desired shape and place in an air-tight container or freezer bag.
It's best to line each layer with parchment paper to avoid layers of flapjacks sticking together. To defrost the flapjacks, take them out of the freezer and leave them to thaw in the fridge.
My Tips For Making This Gooey Flapjack Recipe
Don't skip lining your baking tray with parchment paper! I used to avoid this step but it really makes it so much easier when taking the flapjacks out.
This goes for all bakes actually where you're using a baking tin! I always leave parchment paper hanging over the sides, I simple pull the sides to take the whole flapjack out when ready.
It's very likely that the corners and edges will darken more than the middle, this is normal don't panic! With just 20 minutes in the oven, the colour difference won't be so strong. The middle section will give you the most gooiest slices; which is always my first choice!
If there's any flapjacks left to store (they go quite quickly in my house), I store them in an air-tight container and I transfer the parchment paper and line it against the base of the container. I then place the flapjacks on top and close with the lid. Lining the container prevents any sticking to the base.
I prefer using porridge oats when making flapjacks, they're smaller in texture and hold together better than using bigger and larger oats.
Oats like jumbo oats are larger, hence increases the chance of them falling apart and we don't want that for this flapjack recipe! If you only have jumbo oats you can use them, a great tip is to blend some of the oats in a food processor to get smaller pieces. This will help the flapjacks to stick together.
Equipment Needed
There's no special equipment needed to make this recipe, it's quite simple and very easy to make. If you haven't got these tools below already, you'll need them when making this easy flapjack recipe:
More Must-Try Easy Recipes
Nothings better than easy desserts that require minimal effort and minimal ingredients. Below are a few of my favourite simple desserts for you to try:
Gooey Flapjack Recipe (The Best Ever)
Here's the best really gooey flapjack recipe that's soft, chewy and ultra-gooey. These plain flapjacks are so easy to make and taste so good.
Instructions
Preheat the oven to 180°C, 350°F, gas mark 4, line the baking tin with parchment paper and set aside for later.

Pour the butter, golden syrup and light brown sugar into a large mixing bowl or pan. Melt on a medium to high heat stirring frequently. If you're using the microwave, heat in short bursts approximately every 10 seconds and stir the mixture each time.

Add the oats into the mixing bowl and stir until evenly distributed and the oats are coated in the mixture. The flapjack mixture will look quite wet and moist.

Pour the flapjack mixture into the lined baking tin and spread the mixture into all four corners.

Bake in the oven for 20 minutes. Once baked, leave the flapjacks to cool as this will allow the flapjacks to harden. Wait around 20 minutes before cutting into the flapjack to make squares, rectangles or your desired shape.
Nutrition
Calories:
234
kcal
Carbohydrates:
29
g
Protein:
3
g
Fat:
13
g
Saturated Fat:
7
g
Polyunsaturated Fat:
1
g
Monounsaturated Fat:
3
g
Trans Fat:
1
g
Cholesterol:
30
mg
Sodium:
103
mg
Potassium:
79
mg
Fiber:
2
g
Sugar:
16
g
Vitamin A:
351
IU
Calcium:
17
mg
Iron:
1
mg
Music in video from Uppbeat, License code: 08VBCZFHCZBZDBBY